I was hosting some Halo CE servers successfully until sometime in December last year. I haven't been actively monitoring them, but I want to try and push them again.

I'm running into an issue though. Upstream from me, and outside of my control, there's something preventing the master server from connecting people to my server.

I'm using the same server configurations from back then. Firewall rules are correct. And people can connect to the server without a problem by using Direct Connect.

For some reason though, my servers show up on the master server list (HALOCE.COM 01 - 05), but they don't display a ping, and people will just timeout when attempting to join them.

I've done a bunch of testing with a friend of mine, using Wireshark we've determined that when attempting to join from the master server list, NO PACKETS are being exchanged between my server and the client. Something on a the master server is blocking my servers from connecting people.

Does anyone here have the ability to look into this?

Cortexian




Posts

: 14


Reputation

: 0


Join date

: 2014-05-12



I don't think anyone can easily check the master server end (maybe Btcc22). But the master server seems to be working fine. So the problem is likely on your server end. 

What is the IP/port# of your servers? I have a suggestion. 

Have a look at the command line options for your server:
http://hce.halomaps.org/index.cfm?nid=316

Try using the -ip and -port options to force the IP and port that you want the server to use. The IP address advertised can sometimes be wrong if you have a server with more than one network port or some other strange network setup (virtual machine?).
I've tried IP and port arguments, I need to use port by default because I'm running multiple servers off one host machine.

IP is 70.77.198.97

Ports 2311, 2312, 2313, 2314, 2315

Everything is direct connectable, but shows no ping in master server list (named HALO-CE.COM 01 - 05).

What makes me believe it's upstream from me is because when I have someone try to connect to the server from the master server list, I don't even get any requests coming into my firewall or into the host machine itself. Clients aren't getting forwarded to the correct location from the master server.

Additionally, SAPP receives and displays an external IP and port just fine in the console view.

Cortexian




Posts

: 14


Reputation

: 0


Join date

: 2014-05-12



I fired up Wireshark and I determined that the Halo client is not even attempting a network connection. No packets are SENT from the client when picking your server from the master list (which explains why you are not receiving any at the server). The Halo client is going through the motions but nothing goes out.

I'm pretty sure I've seen this before when the Halo server is advertising no address or an invalid address. Which would also explain why the pings would fail. The master server just accepts whatever address it is given and passes it along to the client.

That's one possible cause. There may be others that I'm not aware of. But there must be something different about what your server is passing to the master server, or other servers would be having this problem too.
If you want to delve deeper into the exchanges with the master server, you'll need a dissector for the GameSpy protocol. You'll find one here:
http://www.gandanur.com/2012/07/wireshark-gamespy-protocol-dissector.html

Alternatively there's a dedicated GameSpy sniffer called GSHsniff 0.3 (which I know nothing about) that you can find here:
http://aluigi.altervista.org/papers.htm#gshidden
OK so I just grabbed the latest 1.0.10 files from bungie.net, and the latest SAPP from halo.isimaginary.com. I created a vanilla SAPP mapcycle with no custom commands or events, server started up, SAPP implemented codecaves, etc, and it started running. Same exact problem. Server lists on the master server with no ping, and if you try to connect from there it times out.

Direct connect still works.

So that rules out an issue with my files or configuration. Since it's directly connectable, that rules out a network configuration issue...

From sniffing, it seems like the master server is getting the right IP address for my game servers, but it's directing clients to the wrong port range...

Do you have contact info for Btcc22 or Roger W?

Cortexian




Posts

: 14


Reputation

: 0


Join date

: 2014-05-12



Cortexian wrote:From sniffing, it seems like the master server is getting the right IP address for my game servers, but it's directing clients to the wrong port range...

Do you have contact info for Btcc22 or Roger W?
It's more than just a port# problem. It's the IP address too. 
Here's an example of when it is going right (not your server):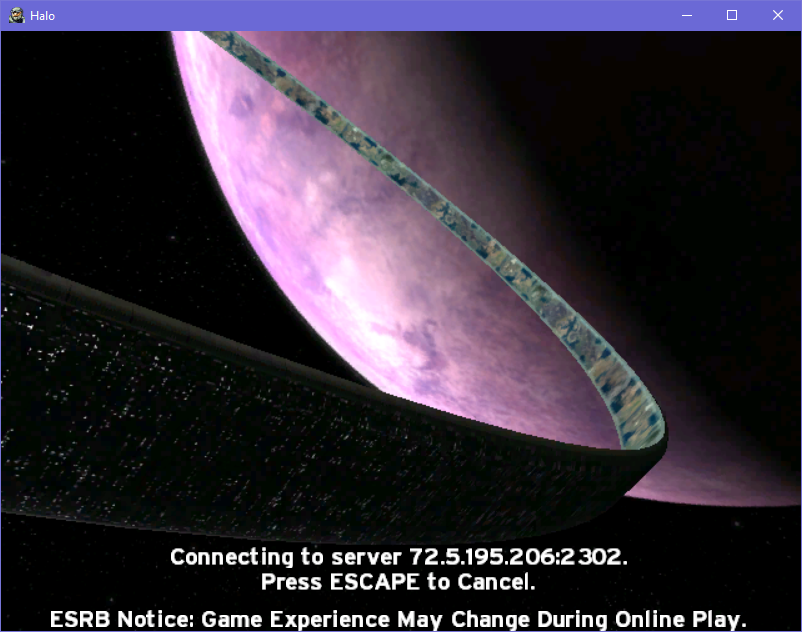 Normally when you are connecting to a server from the list the client shows what IP:port it is attempting. 
And here's your server: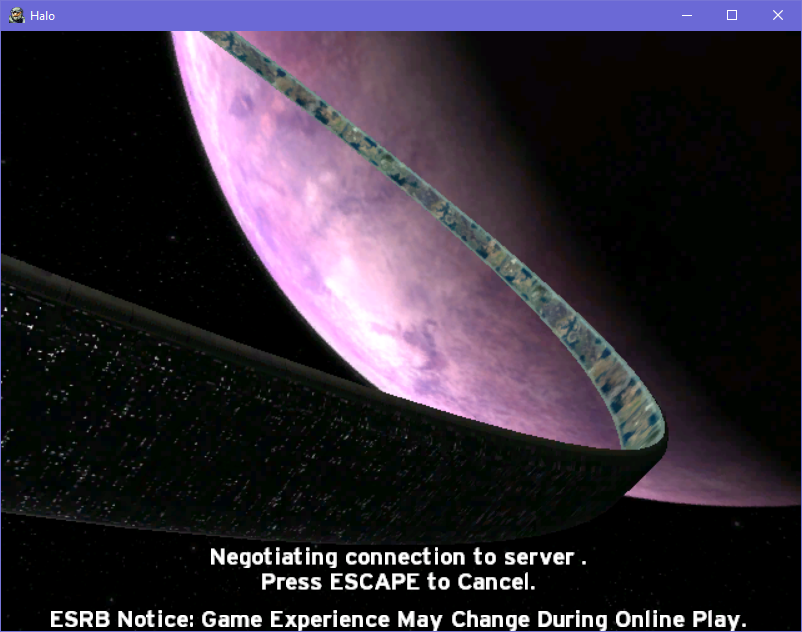 Notice there is no IP:port displayed at all. It's not just a wrong port#.
I'll see what I can find for contacts and message you directly. Both of them are out of the picture these days, moved on to other things. But I still don't think it's the fault of the master server anyway. Other halo servers are fine. I wondered if it was only affecting newer servers, so I added a new one myself and that also worked fine. 
Is there something about your hosting server or network/router that is different from most other halo servers? OS? virtual interfaces? double-NAT? VPN? Anything?
My servers are on a Hyper-V virtual machine, connected using an External Network configuration with a dedicated NIC. This isn't the problem though, I tested on a bare metal machine too. Also tested a fresh server installation at a friends house, totally separate IP and got the same result.

The only thing we have in common is that we use pfSense as our Firewall/Router. It's possible it's overly restrictive and not allowing my servers through, but it used to work for years, so no idea why it stopped suddenly if that's the case. No double NAT in the configuration. No VPN or anything.

Thanks for the PM!

Cortexian




Posts

: 14


Reputation

: 0


Join date

: 2014-05-12




---
Permissions in this forum:
You
cannot
reply to topics in this forum